Set foot on the new journey, Jufei help CSOT release 125 inch transparent MLED direct display products
Recently, TCL CSOT DTC 2021 Global Display Ecology Conference was held grandly, and the world's first 125-inch glass-based transparent direct display MLED product was released at the conference. The display screen is one of the representative application of jufei COG's new technology. It is created by Jufei and CSOT hand in hand. It's unique and exquisite quality bring to the audience a beautiful visual journey.

‍
This application is another product from Jufei based on glass-based active drive technology since TCL CSOT released the world's first 142-inch IGZO glass-based active MLED display with DTC 2020.

This product has excellent performance, It's average brightness is 1000Nits and the peak brightness is 2000Nits. Compared to traditional PCB transparent screen, the product has a higher penetration rate of over 70%. Smaller pixel area can bring better transparency and more delicate display screen. The display takes 25-inch monomone as the minimum splicing unit, which is exclusively supplied by Jufei. Combining with the high-precision glass splicing technology of TCL CSOT, the display realizes the transparent form of large-size splicing, and can realize 2*N infinite, seamless splicing, supporting the customization requirements of different environments. Suitable for business office, outdoor advertising, cinema and other commercial applications.
Jufei also made another glass-based transparent direct MLED display for CSOT in the same series. This product also adopts AM active drive mode, penetration rate ​≥ 60%, single side PIN, average brightness 1000Nits, peak brightness up to 2000Nits. The display realizes 2*N unlimited and seamless splicing with 19-inch minimum splicing unit, and also supports customization requirements of different environments.

In addition, Jufei assisted CSOT release a series of brilliant products, including the P2.0 flexible transparent direct DISPLAY MLED screen; 65 "8K 0.3mm ultra narrow bezel suspension double panel; The industry's first 55 inch 2.5mm narrow edge LCD splicing screen .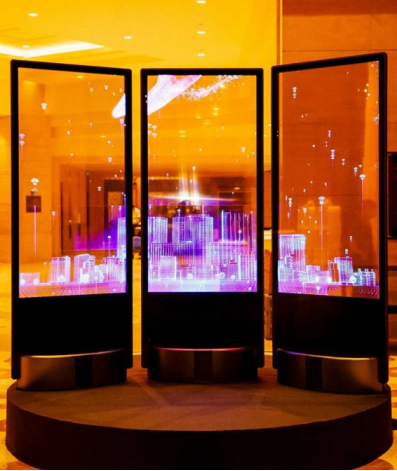 Every technological innovation means a beginning of a new journey, the new journey brings not only a leap of quality, but also a thorough sublimation of spirit. Discard the old and bring forth the new, emancipate the mind, do not forget the mission! Jufei will continue to bring more surprises to the audience, stay tuned please!
​